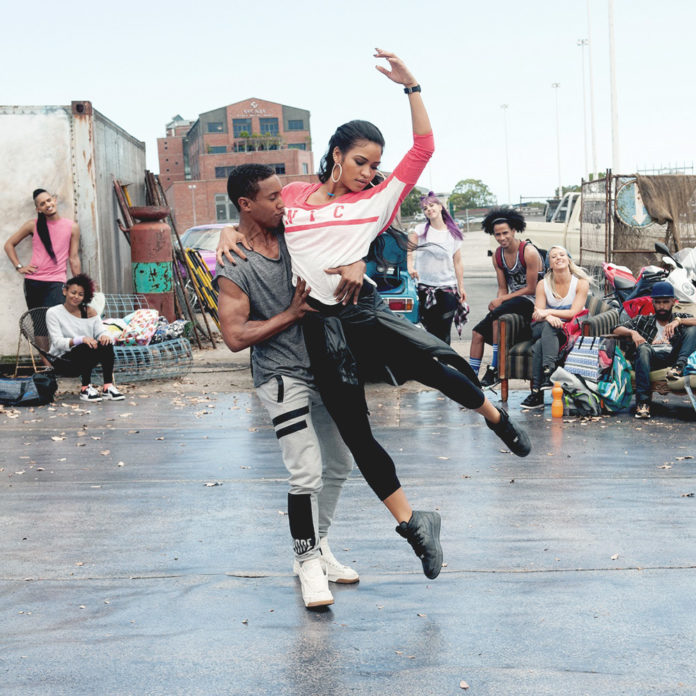 If we're talking about dance movies then Honey (2003 starring Jessica Alba as Honey Daniels) is always mentioned as one of "them". You know, "them"? All dance movies have weak storylines – we already know this. But if your dance movie can somehow rise to the top of the cheesy pack, enough for your moves to be used in every church youth dance group, then you've definitely made it to be one of "them."
Each of "them" have something defining or memorable about them. Examples?
Coyote Ugly (2000): The first time we heard that LeAnn Rimes song! Rimes' music was all over that movie; she even made an appearance – someone's manager was working very hard there!
You Got Served (2004): The long-time Godfather of all dance movies! Seriously, who doesn't remember Megan Good's character saying, "It's beautiful, with an e-lll." After the girls in that movie did some of their moves with their huge Afros swinging back and forth, every single girl had to have their hair open when dancing hip-hop, and there was that run-like-a-doggy move as well. Then there was Omarian, Lil' Kim, and the rest of the star-studded cast, and songs like B2K's Do that thing that made the epic opening scene… No other dance movie has made a more epic opening scene – none. Although, one that comes close is *drum roll*…
Step Up 2: The 2008 sequel to 2006's Step Up, where Channing Tatum does the opening club dance sequence on the trampolines and then doesn't show for the rest of the movie  (talk about lifting our hopes only to dash them.)
And then there was the 2007 Stomp The Yard, the infamous empty pool scene and all of the moves and war cries that came with it, and oh my goodness – Columbus Short!
Lastly, Honey and it's infamous penultimate dance scene where they eventually put out the dance production that Honey Daniels has always dreamed of and they do the last dance to Yolanda Adams' I believe I can, introducing about three moves to society that I know so well but can't name so they'll stay in my head… 
As you've probably gathered, I could go on and on about dance movies, but I'll stop there because we came here to talk about Honey 3 (2016). Directed by Billie Woodruff and written by Catherine Cyran, the film follows the story of Melea Martin, who's attending UCT in Cape Town and living with her late mother's brother in the Bo-Kaap. Martin has problems at school, but presses on to achieve her ultimate dream: putting on a hip-hop performance of Romeo and Juliet as her thesis project. In order to do so she rents a failing theatre (in Main Road), and employs the help of an enemy, "but much like the Capulets and Montagues, conflicts between cast members threaten to bring the whole performance to a halt…"
The movie stars Cassie Ventura (as Melea Mertin) Kenny Wormald, Dena Kaplan, Cape Town, and a whole host of impressive South African dancers (and personal friends of mine) including the recently very well known Rudi Smit in the opening dance battle.
My happiness was at its peak when I heard Black Coffee's Dance again (ft. Nakhane Toure) start to pulsate through my speakers and the South African choreographers and dancers did not disappoint or fail to deliver, although their hard work would have shone with better song selection throughout the movie, and in most cases, a better script.
Although it's a dance movie, there's just so much dancing that by the time you've skipped through the cringe-worthy scenes (and there are a lot!), and watched some of the others at twice the speed to get to the end, you're not only underwhelmed, but tired.
One of the most frustrating things about the movie is that that 90% of the main characters speak with an American accent (even the ones who aren't from America), which doesn't make sense when you want to showcase the beauty of South Africa, and it is quite off-putting, to be honest.
However, whenever the strong South African accents do come through, they sound quite beautiful, especially because of the surprisingly good quality aesthetic of the production.
All in all, the mega 5,2 out of 10 that the movie scored on Rotten Tomatoes is well justified.
As if I wasn't already sure I'm now surer than ever that South Africa is capable of holding its own. When we're ready to put aside the need for international leads and international approval, we can do something as, if not more relevant, than Sarafina was in its day (Sarafina is still very poignant, by the way), speaking to the world and the culture through all that God has so uniquely gifted to us in this country.
Arise and shine, South Africa, for your time has come (Isaiah 60), you (we) are a chosen people, set aside to be a royal order of priests, a holy nation, that is God's own, so that you (we) may proclaim the wondrous acts of the One who has called you (us) out of inky darkness into shimmering light (1 Peter 2:9). Out of inferiority into purpose, passion, and power!
Not sure? Why not click on the banner below?
Do you have questions about Jesus or would like to know more? We would love to connect with you. Just click below to send us your questions!