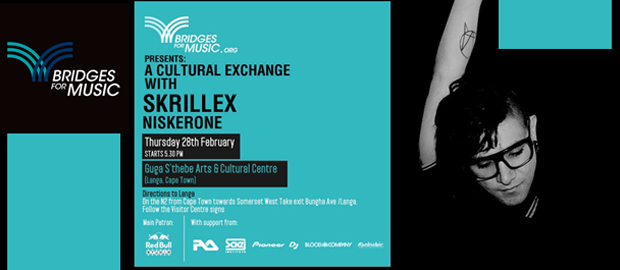 While Dubstep music might not be everyone's cup of tea, you cannot deny that the man who goes under the more commonly known name "Skrillex" is undoubtedly the most talented when it comes to digital music production.
What's even better than that is the fact he's willing to impart his knowledge on the subject FOR FREE in collaboration with a non-profit organisation called Bridges fro music. A great initiative indeed!
See details as per FACEBOOK EVENT below.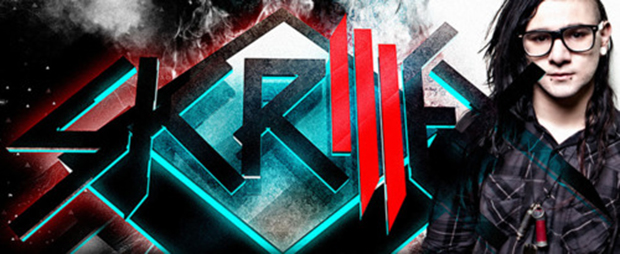 BOOK YOUR SEAT SENDING AN EMAIL TO workshops@bridgesformusic.org LIMITED SPACE.
The six- time Grammy Award winner and local artists Niskerone and Sibot will be offering a free workshop on Thursday, 28th of February in Langa, Cape Town. In conjunction with Bridges for Music non-profit organization, Skrillex will conduct a session about bass music, technology and his achievements in the industry.
Skrillex, shows his willingness to share his knowledge and engage with young local DJs and producers. The workshop will be the second held by Bridges for Music at the Langa Cultural Center, known as Guga S´thebe, following the great success of the first one with Richie Hawtin and Black Coffee two weeks ago.
The purpose of these sessions is to enrich the local music culture, exposing it to new sounds, local and international artists, and creating a creative and cultural experience through music. Moving forward Electric will join Bridges for Music to explore new social projects through the music industry.
Skrillex will be in South Africa, as part of his international Mothership Tour, on the 1st to the 3rd of March, performing in Cape Town, Johannesburg and Durban. For more information see www.facebook.com/bridgesformusic.
Workshop Info:
• Date: Thursday 28th February
• Time: Starts 5.30pm
• To book a seat, please send an email to workshops@bridgesformusic.org
• No seat bookings will be kept after 5.15pm.
• Moderator : Richard Rumney (Red Bull Studio Cape Town)
Address:
Guga S'thebe Arts & Cultural Centre
Washington Street
Langa
Cape Town
Directions to Langa
On the N2 from Cape Town towards Somerset West
Take exit to Bunga Ave./Langa. Then follow the signs to Visitor Centre ( It is close to the Police Station)
For more Bridges for Music information:
• http://www.bridgesformusic.org/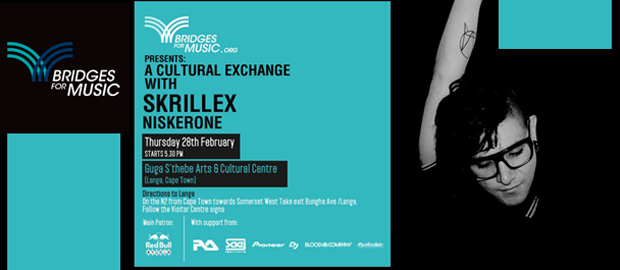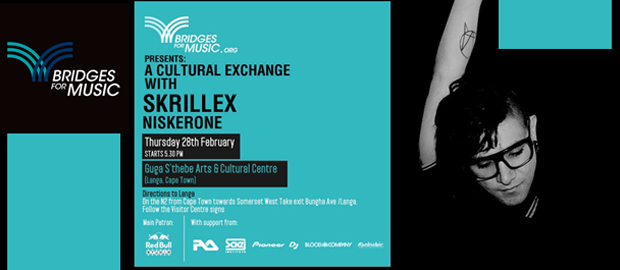 For more Mothership SA Tour Information:
• www.skrillexsatour.co.za
• www.electricmusic.co.za
• http://www.facebook.com/electricmusicsa
• http://twitter.com/electricmusicsa
Do you have questions about Jesus or would like to know more? We would love to connect with you. Just click below to send us your questions!