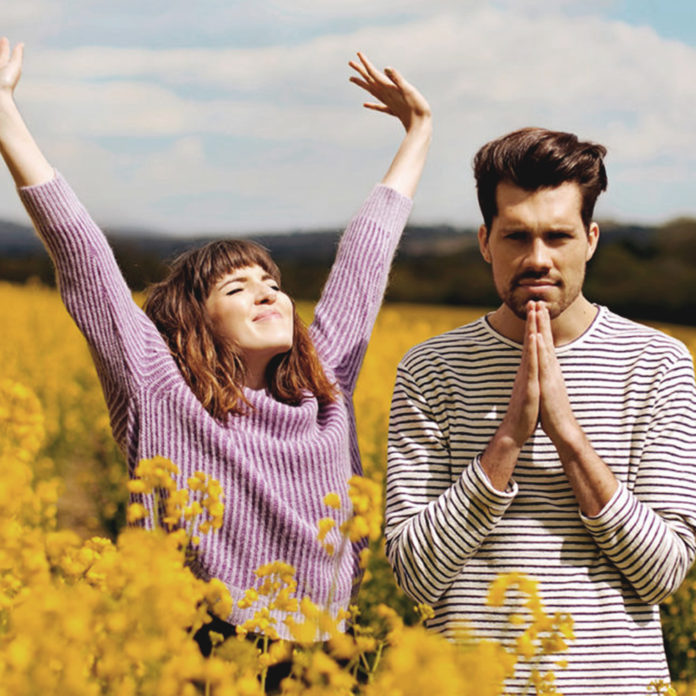 It's very rare to have a duo that writes, produces and masters their work themselves these days – not to the standard these guys do it at least. If you haven't heard of Oh Wonder before, they are a British duo who 'fell' into making music together professionally. Josephine Vander Gucht and Anthony West respected each other's music and got together to write a few songs. What resulted was a homegrown sound that is internationally celebrated. They have admitted that it definitely started as an experimental fusion of musical tastes, but the result was a cohesive and complex sonic tapestry: layers of frequency that all dance in a dynamic yet elegant synergy.
There aren't many successful duo's in the industry at present. The 'Sonny and Cher' rapport died a horrible death in the late 80's and the dislocated end to the Civil Wars doesn't bode well for the idiom. But groups such as Alex & Sierra and Johnny Swim have shown that there is still a market. But where other duos may have relied on their relationship dynamic or good voices, Oh Wonder is convincing on a much deeper level. Theirs is a collaboration of mutual genius. Their love of music and the craft of songwriting is apparent in their recent 'making of' documentary and their 'relationship' has developed from there. They have not been very open about their private relationship – their first interviews had a distinct emphasis on their professional connection (justified by the clichés mentioned before). But there is a small moment during a photo shoot where they almost kiss – whatever it looks like, these two definitely have chemistry.
Speculation aside, there is no denying that they have worked extremely hard over the past two years – almost consistently on tour and writing whenever they had time off. But the new album is a very clear progression of their first album – which they recorded on laptops and in home studios. But this time they had full reign of top-class studios and mastering suites – and the end product is extremely impressive.
Their first track, Solo is a comforting 'welcome back' to their sound. With tight percussion and complex 'wahing' chords, it feels punchy and fresh. While their octave overlay of vocals (a musical signature) is still present, there is a fracturing into vocoder brilliance during the chorus that helps express the tension of the subject matter – wanting to be alone but not lonely.
The title track holds a pop feel that could be described as a combination between Coldplay in their 'A Head Full of Dreams' writing space combined with an Imagine Dragons drummer and an expressive synth player. Have a listen and judge for yourself.
Another stand out track for me was 'High on Humans' which addresses how people live past each other, while their interaction could actually bring a better sense of connection. It is probably the most upbeat song they have ever done, with some refreshing live drums and incredible synth hits that highlight points of the vocal melody – adding a third octave above the guy, girl combination.
I could literally go through every song and tell you why it's worth listening to, but if I had to choose one last song to review it would be 'My Friends'. Stripped back to piano with an acoustic approach it is definitely the melancholic song you've always been looking for. Think rainy days a concrete and warm thoughts of elsewhere. Check it out:
There are many things to appreciate about Oh Wonder, but I think the main thing is that both Josephine and Anthony are making music because they love to. It's not a vehicle to get famous or even just to be successful. There is a genuine commitment and passion for music itself. Great lyrics, imaginative instrumentation and excellent producing – let's hope they come to Africa soon!
Do you have questions about Jesus or would like to know more? We would love to connect with you. Just click below to send us your questions!