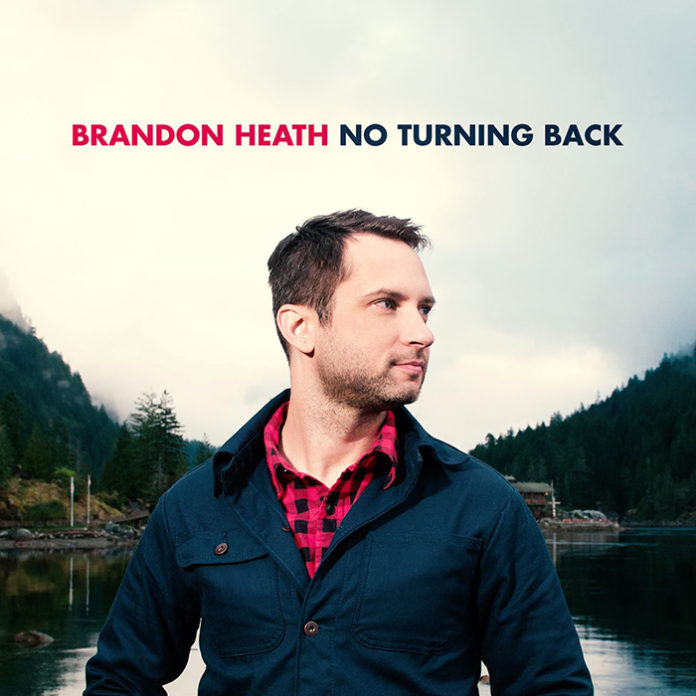 One of my highlights of 2013 was hanging out with Brandon Heath.  We chatted over the phone for a good few minutes, talking about music of course, but also just vacation fun, the personal evolution of Brandon as a person, and choosing album art and font styles.  Rather random stuff, but the man is fun, and why not talk about the things that make us tick and make life interesting and worthwhile.  During our chat, it became clear that Brandon, like most Christian artists out there, is chasing the Father heart of God, and making music that can be enjoyed by a vast array of people and he's intentional about everything; whether creating social programs or brand new albums.  Brandon is so down to earth too, you'd wish you could hang out with him every weekend around the barbecue fire, and have him at your birthday party.  Not to play his guitar, but just to be there and make you laugh and impress your friends. Oh yes; his new album!
His previous (non Christmas) album, Blue Mountain, seemed like it came out last week, but it was released 'way back' in 2012 and it gave us a double dose of Americana that felt like a nostalgic musical journey to a place that is beautifully quiet, full of inspiration, and it also brought an overwhelming desire to lie on your back and stare up at the clouds.  It was indeed experimental, and it was very well received. Come February 10th, 2015, No Turning Back by Brandon Heath will arrive on shelves, with a whole new direction, but not a brand new sound. Thematically different, yes, but the feeling that some of the songs could have been part of Blue Mountain, is not a crazy one.  Don't get me wrong, my comment is not a criticism of quality or ability to entertain and encourage, it's just a musical observation.  Let me rather tell you all what's great about the album, in case you think I'm hating on it. No Turning Back is like taking a walk with someone you fancy, trying to hold their hand, but happy to just brush your fingers against theirs, the whole time sharing the best bits of your childhood, and your dreams for the future.  It's sentimental, gets you pondering about the exciting twists and turns your life might take, but is also comforting in the knowledge that the goodness of God is very much available to us all, if we accept it and allow it to change us.  Brandon continues to make music that is familiar but not ordinary or bound to a specific time.  You could play No Turning Back in 10 years time and good feelings will come flooding back, leaving you with a goofy smile and a reaffirmation of the kindness of God. No Turning Back is all about Brandon's decision to follow Christ, on that beautiful day, 20 years ago at Young Life's Malibu Club in Canada.  As Brandon says, he had no idea just how much better his life would be after he made that decision. He returned to the camp two decades later, along with his new wife, to share the joy of his salvation, as it says in Psalm 51:12.  He put pen to paper to write songs for No Turning Back, inspired by the idea that his life in Christ is growing and being redirected and renewed all the time; an ongoing process that shows the faithfulness and presence of God.  The album is produced by the spectacular talent that is Ed Cash (think Casting Crowns, Dolly Parton, Chris Tomlin, Toby Mac, Britt Nicole) and believe it or not, Cash was that amazing camp's musician way back in 1995, so you can't get closer to the original story than this combination.
Brandon Heath's voice isn't the only vocal you'll hear, with the sounds of All Sons and Daughter's Leslie and David in there on the title track.  This is also the first solo album that Heath has done where he didn't write all the songs.  Ed Cash wrote the final track on the album, titled S.O.S and it shows that Ed shares the power of Brandon's experience and our absolute need for a Saviour.
No Turning Back gives you 11 tracks, with my favourite being: Only Just Met You that has some dance floor credibility with heaps of remix potential that could get the Capital Kings drooling and hoping their phone might ring at any moment. Hint hint.  There's a gentle flow through the remainder of the tracks that won't really get you up on your feet, but will aid a time of reflection.  The truth that Brandon sings will make you very proud to be a believer in Jesus, and in His ability to change our lives,  just like Mr Heath sings 'When You look at me, it's like I'm 12 feet tall without a care, and Your forgiveness feels like floating on air, oh Lord, when you look at me.'
Rating: 8/10
Here' the official lyric video for No Turning Back
Do you have questions about Jesus or would like to know more? We would love to connect with you. Just click below to send us your questions!