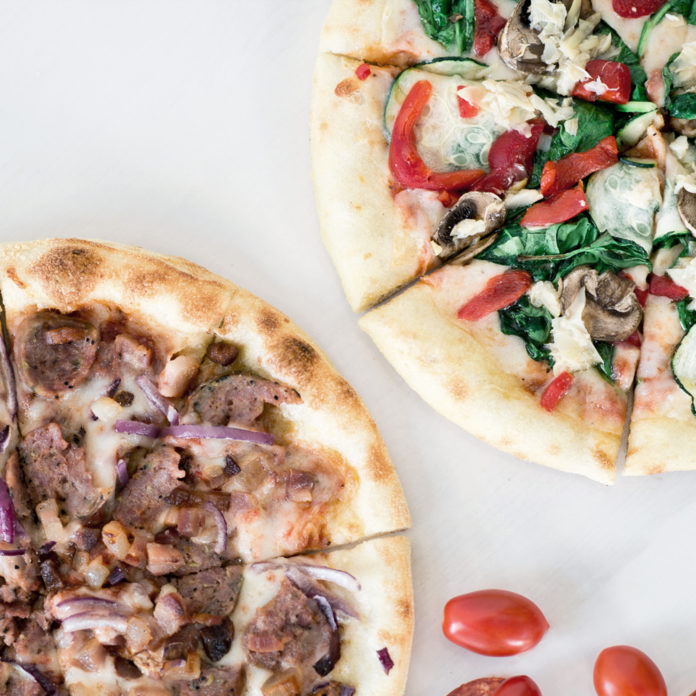 How to make yourself pizza the easy way.
Preparation time: 15 min + 1 hour rising time
Cooking time: 15 min
Ingredients:
Base:
10g instant yeast
15ml sugar
4 cup flour
10ml salt
30ml olive oil
400 – 500 ml warm water
PIZZA Sauce ingredients:
1 clove garlic, peeled and crushed
2= 410 g tinned tomatoes, drained and finely chopped
15ml tomato paste
10ml salt and freshly ground black pepper
bunch fresh basil or oreganum, chopped
Method:
Base: Sift the dry ingredients into a bowl and add yeast.
Add remaining ingredients with enough liquid to form a soft dough.
Turn onto a floured surface and knead until dough is smooth and elastic.
Place dough in a large lightly oiled bowl, cover with cling wrap and leave in a warm place to rise to double in size (about 60 minutes).
Return to floured surface and roll out to a thickness of 3 mm then, using a pot lid or plate as guide, cut 6 large circles.
Prick bases all over with a fork and bake at 240ºC for 5 minutes.
Pizza sauce:  Add and mix ingredients together, cook over a medium heat for 1 – 2 min and set aside.
Pizza topping suggestions:
1. Grated Mozzarella, tinned pineapple pieces and Chopped Ham Roll. Once baked garnish with a few leaves of fresh rocket.
2. Pre-cooked sliced Gold Medal Pork Sausages, with sliced mushrooms and tomato.
3. Sliced Viennas with cubes of feta cheese. Once baked, pop on a few slices of freshly peeled and sliced avocado.
4. Rib Burgers cut into pieces, mozzarella and tomato.
5. Sliced Russians with mozzarella  – once baked pop on a few slices of banana.
Final touches:
Preheat oven to 240ºC
Brush the partially baked base with olive oil.
Spread with about 45 ml of the tomato mixture, sprinkle over about 250 ml grated mozzarella or cheddar cheese.
After choosing your favourite combination of toppings, bake in a preheated oven for 8 -10 min or until cheese is melted and browned and serve immediately.
Options:
Try some of the following additions:
onions, spring onions, capers, olives, anchovies, bacon, asparagus, artichoke hearts, Peppadews, roasted butternut or beetroot and slices of chilli.
Drizzle some sweet chilli sauce over the pizza just before serving.
Serves 6 people.
Do you have questions about Jesus or would like to know more? We would love to connect with you. Just click below to send us your questions!