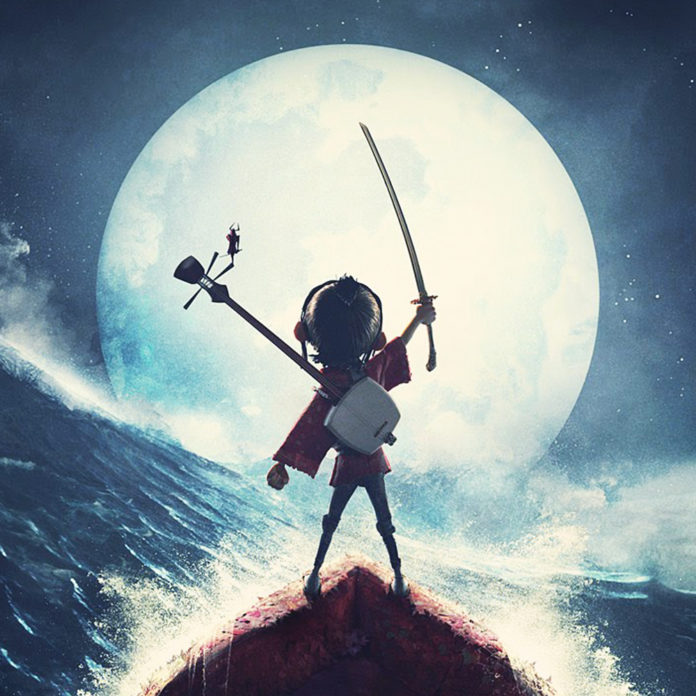 "Before you started on your heroic journey, what were you like?" asked Beetle. Kubo looked down and replied, " "I told stories, about warriors, and monsters, and heroic quests…. I was good at starting them," he paused and then carried on, "Not so good at ending them…"
I don't believe that I've watched a better animation this year than LAIKA production studio's Kubo And The Two Strings. Yes, there were others as thought provoking (like Zootopia – maybe), but none as mesmerizing with regards to the beauty of the actual animation; or as intriguing when it comes to the employment of traditional storytelling as chosen by first time director, Travis Knight.
It is an American 3D Stop-Motion Fantasy Action Adventure film set in ancient Japan and written by Marc Haimes and Chris Butler. The voices of Charlize Theron, Art Parkinson, Matthew McConaughey, George Takei and Rooney Mara bring it to life. They tell the tale of Kubo, a young boy who is a gifted storyteller. Kubo has mysterious powers and has to fight against The Sisters, as well as Raiden, The Moon King and his army of evil monsters in order not only find out why his left eye was stolen from him, but also to learn some important lessons about where he comes from, family and humanity.
His journey is perilous; but luckily he is not alone, and his new friends, Monkey and Beetle, accompany him. I wouldn't recommend this film for young kids, and would recommend parental guidance for kids from 11 up as the film's monsters are done so well that it can sometimes get a bit scary (more than the regular).
I started watching the film out of curiosity but, then became increasingly aware of the very important messages and things that I myself needed to take to heart!
SIDENOTE: (Some backstory so you can understand what is to come)…Now, I come from a family who prepares for the year to come, by reflecting, and thanking God for the year we are in for the whole month of December. It is also tradition that we write down our dreams after that reflection and come back together to pray for and with each other before the New Year starts!
LESSONS FOR THE NEW YEAR, ROOM FOR IMPROVEMENT…
LESSON 1: Throw away perfectionism. Decide that you will always finish what you start. It doesn't matter how big your dreams are if you don't complete them.
I'd like to call myself a professional dreamer. I dream a lot. But dreaming is nothing if there is no action. At the beginning of this article, I quoted the following from the film: "Before you started on your heroic journey, what were you like?" asked Beetle. Kubo looked down and replied, " "I told stories, about warriors, and monsters, and heroic quests…. I was good at starting them," he paused and then carried on, "Not so good at ending them…" … all Kubo needed to complete his stories was action. Before he was set into action, he retold his stories everyday, adding more and more to them – but never finishing them. It is very tempting – as dreamers – to do that; to always improve, always touch up, always changing your product – never finishing. Next year, I plan to finish. And, finish a whole lot.
LESSON 2: Throw away self-reliance. Anytime you get too pleased with your own capacity and capability, and you allow too much room for your pride – you fall soon after…
"You're growing stronger, you might not want to look quite so pleased about that. We grow stronger; the world grows more dangerous. Life has a funny way of keeping things balanced… I encourage you not to die…Heroes come and go… " – Monkey
HAHA! I swear that this is an annual goal for me. I have to continually come back to the drawing board, because there are times when I get too confident in my own capabilities. I love this quote by the great Christian preacher and theologian, Charles Spurgeon, "Oh, you great saints, if you have outgrown the need of a sinner's trust in the Lord Jesus, you have outgrown your sins, but you have also outgrown your grace, and your saintship has ruined you!"
LESSON 3: If you've read any of my writing then you'll see me saying this very often, SERVE OTHERS MORE, forget the pressing need to spend more time on your dreams and visions!
"I have found the son of my master… Whatever brings you to these lands – whatever quest brings you here – I will join you; and I will give my life for you if necessary. I know how these quests go, people die all the time – they drop like flies, but that doesn't matter. Cos' I have a feeling that this is my destiny…" – Beetle (Kubo and The Two Strings). HOW PROFOUND IS THIS?  Beetle was a mighty warrior, and was quite able to fight his own battles, but, he was a warrior without a cause, and he knew that he would go crazy if he did not submit to a mission and a goal greater than his own.
I was super convicted by seeing this; the biblical principle of submission is huge! I love the story of the Roman Centurion who went to Jesus to heal his servant, and showed that he had great faith by instantly believing that when Jesus said the word, his servant would be healed. The Bible says that Jesus was "stunned by the depth of the officer's faith."
Handing over all control and submitting your plans and dreams to purpose of serving the true master (Jesus and whomever he has put in leadership in your life) shows your level of faith. It is no use asking God to do what he wills in your life, when you're unwilling to give him control through your service. Winkie Pratney said, "God does not guide those who want to run their own life. He only guides those who admit their need of His direction and rely on His wisdom."
There could be so many other points, but I'm going to stop there, because just these three will have me working throughout the year. If you feel like me, but need a little bit of a kick-start getting your journey to improvement started, why don't you click on the banner below?
Do you have questions about Jesus or would like to know more? We would love to connect with you. Just click below to send us your questions!