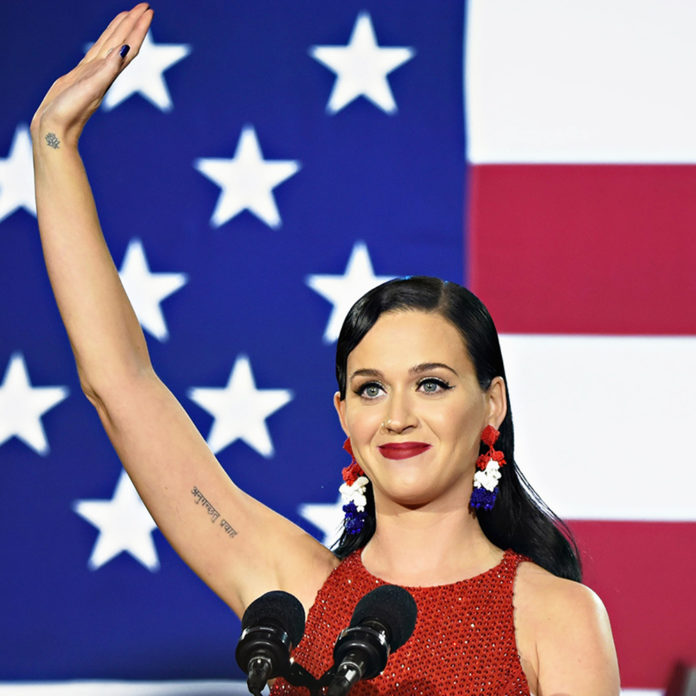 Everyone knows Katy Perry is up for controversial expression. Launching with a single like 'I Kissed a Girl', there was a clear creative license that many have grown to understand. There has definitely been some backlash to what she has done, but in recent days it was looking like Katy was focussing more on personal upliftment – from 'Roar' to her previous single 'Rise'.
But three weeks ago, Perry took on a new frontier in a way that is as much genius as it is provocative. It has been clear that she is a loyal Democrat – campaigning for Hillary on multiple occasions during the recent US elections. But she has now produced what could be considered the biggest modern-day example of protest art against a regime: her new single 'Chained to the Rhythm'. Check out the music video and then I'll break down a few awesome elements of it:
The words themselves challenge the idea of the American Dream – especially speaking about willful ignorance and searching for comfort over doing what is right. Featuring Skip Marley, things get even more raw with lyrics such as 'break down the walls', 'time is ticking for the empire' and 'the greed of all the people is stumbling'. This is the closest thing to pointing a direct finger to Donald Trump and his rule so far in the White House – whether it is referencing the wall to be built between Mexico and America or some of the controversial oligarchical appointments in his cabinet.
But that is not where it ends. Katy first introduced a lyric video at the same time as the single. In it, there is a gerbil that is simply seen eating and living in a dollhouse, while a giant hand cooks miniature dinners and keeps it happy. The idea of living in a 'bubble' that looked a great deal like a 60's picket-fence ideal is subtly introduced. In this music video, however, the reference to the rodent becomes a mascot for a theme park named Oblivia. Now we venture into the land of people.
One of the most direct references can be found in the American Dream Drop ride – where couples get encased in the perfect little houses only to be raised high and then dropped. Perry is seen pricking herself on a rose with gold barbed wire as a stem – revealing the imperfection under the facade.
References to social media are made on the 'Love Me' rollercoaster with Facebook 'likes', 'loves' and emoticons, as well as Instagram with snaps of the riders being rated toward the end. There is no denying the role that social media has played in the state of US society – the fake veneer of it all seems to suit the analogy of a rollercoaster with all it's twisted ups and downs.
The choreographed queueing people is where things get a little 'Truman Show' creepy. This could be a reference to voters who went to the polls to usher Trump into power – the conservative attire, albeit over the top, could support this observation. As everyone queues for a human-sized hamster wheel, it seems like the delusion of society has reached a shocking standard. Especially when people begin to stumble and fall terribly.
Some harsher references to Trump's decisions and policy itself can be found in the white picket fence, over which elderly couples are being hurled. This could indicate Trumps commitment to dismantling a healthcare plan that benefits the middle to lower class – especially pensioners. Another direct attack is the H2O Inferno petrol station, where she is offered chemicals to drink. One of the most controversial things Trump has done is open the reconstruction of the Keystone Dakota Access Pipeline, which will affect the water for a key group of Native American people.
My favorite reference, however, is the ride called Bombs Away, which shows a whole lot of bomb-shaped cars being thrown up precariously before hitting the tracks again. Trump has said some controversial things about bombing North Korea and has provoked a recent nuclear bomb test from that nation. The precarious nature of his policy can be seen in the 'limbo' state of the bomb cars free-falling from dizzying heights.
Perry pulls all of this off with a great sense of artistic sheen that keeps it firmly in the 'mainstream' Pop genre. As many more entertainers and artists create in this new America, it will be interesting to see what is still to come.
No matter how dire the circumstances are – I know that we cannot find peace in the comforts around us. God is the only true source of peace. If you want true comfort, that will not negate the hard parts of life, but help you get through them, click on the link below.
Do you have questions about Jesus or would like to know more? We would love to connect with you. Just click below to send us your questions!