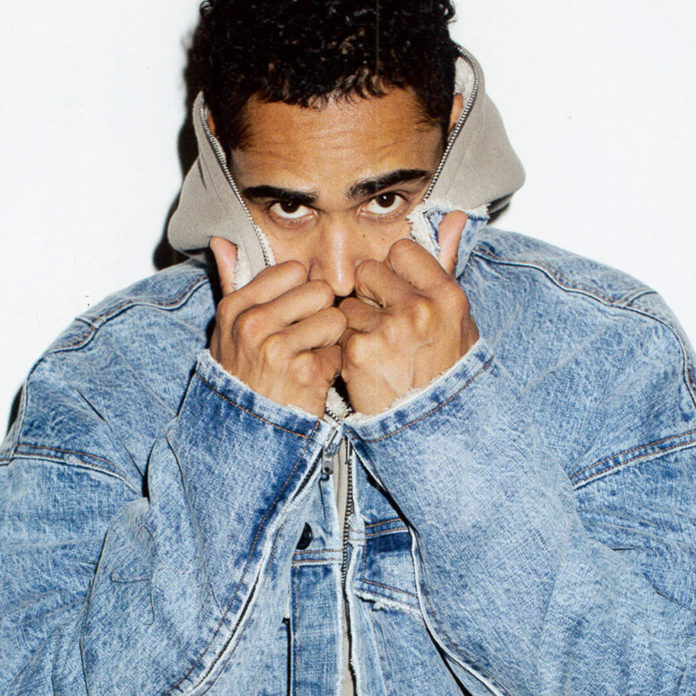 When one thinks of men's fashion or fashion in general, the last thing you associate that "culture" and "space" with is God.
For many years, my idea of fashion was runways, fashion shows, and pretentious people who wore expensive threads no one else could afford.
I was wrong.
For a while now, I have followed a designer, producer, and creative (just to mention a few of the ways to describe him) named Jerry Lorenzo.
Lorenzo, based in the United States, has influenced the way many of our current pop stars look at fashion.
Jerry Lorenzo founded the brand Fear of God, also known as FOG (pronounced F.O.G).
Before I wrote this I had found my own way of describing what his clothing line embodies. I was considering phrases like: "the reinvention of streetwear" or the "rebirth of denims" and "our introduction to our 21st century fashion icon".
I don't think I would have been wrong.
But I certainly think Jerry Lorenzo does an outstanding job of describing it himself.
On the FOG site you are greeted by Jerry's fourth collection introductory video.
In the video, Jerry explains exactly what FOG is:
"I know that all things that are, were first in God. In this collection I can no longer hide behind conversation. It has to be a statement. Fear of God is not…it's not a street wear brand, it's not a men's contemporary designer brand or even a Christian clothing line, for that matter. It's denim, it's fabrics, nylon, it's bombers, but it's His hand and it's His grace that are on it. This is God's brand."
What an outstanding declaration about a clothing line.
Lorenzo's influence through FOG has seen him work with a wide range of celebrities and influential figures.
For those that have been following, you would notice that Justin Bieber – who is currently on Tour – has only been wearing FOG on stage.
I also recently saw an Instagram by Kevin Hart, the comedian, where he is rocking a FOG bomber.
Apart from the bombers, which have become an FOG trademark item, one of the most incredible products from the brand are what Lorenzo describes as "Fear of God Resurrected Rock Tees".
The resurrected tees are basically T-shirts from some of the most iconic rock bands of all time. They are reworked by Lorenzo and his team and finally branded "Fear of God", usually on the back bottom part of the tee.
He has done this with Metallica merchandise, among others.
One of the most outstanding features that make FOG unique is Lorenzo's approach to the design and production processes.
I recently came across an Instagram post that explains exactly what I'm talking about.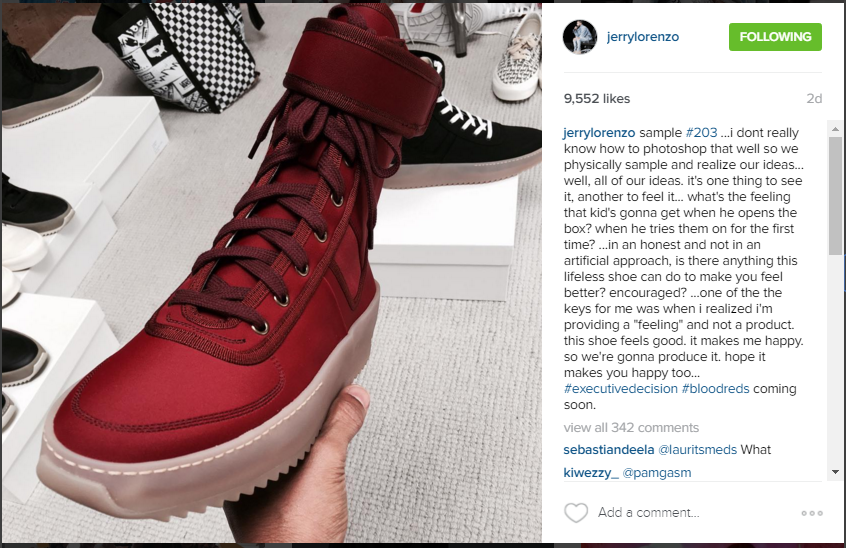 Basically what Lorenzo is saying in the Instagram post is that while he isn't the greatest "photoshop guru", he chooses to send to production every design concept that he grapples with.
Obviously this comes at a cost – literally – but what it does is give him an opportunity to "feel" the product. If it is a shoe (like the one above), he can feel the texture and any other variables they have to consider when producing.
So when you make a FOG investment (yes, investment), you can be assured the quality test has been a rigorous one. And the final product is truly something you can cherish, rely on, and ultimately enjoy.
FOG has also been a point of inspiration for me personally.
If you watch and listen to the FOG fourth collection video again, you'll realise that Jerry does not hide behind any excuses about his faith.
And I think that is what attracts people to the FOG culture.
It's not just for Christians, but it's definitely God's brand.
In a sense it represents the approach God would take with us if he walked among us in the flesh, today: I'm not just here for Christians, I'm here for everyone!
Apart from the website you can follow the FOG journey on Instagram and Twitter. You can also follow Jerry's on his personal Instagram account.
Do you have questions about Jesus or would like to know more? We would love to connect with you. Just click below to send us your questions!