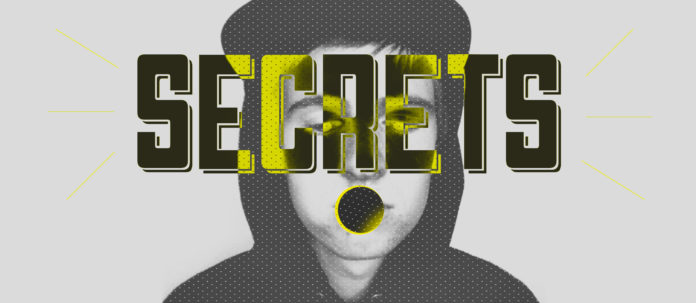 So I'm sure with a title like "I have a secret", the first thing that's most likely to come to your mind, would probably be… "what is it?". Well, wouldn't you like to know. But we'll get there –  just settle down for a sec! (kidding of course).
We need to talk about your secrets for a moment. Let's be honest, we all have them, and if you're thinking to yourself "I don't have one", just think a little harder and longer –  one is bound to spring to mind. What got me on to this topic was a really interesting, inspiring, shocking and yet thought-provoking video clip I stumbled across on Vimeo recently. It's basically just five minutes of a few random people confessing a secret they've never told anybody before.
Before I say anything more though… watch this clip real quick!

I'm sure that was pretty funny, uncomfortable and possibly shocking for you. What was interesting to me though wasn't only the actual secrets being confessed but also the feeling I got inside when trying to imagine myself in their shoes. What would I confess? What would the repercussions of that be? How would people's perceptions of me change if they knew every single detail about my life?
Some tough questions indeed, wouldn't you agree? After thinking about this concept of "public confession" and about the video itself, a bible verse that I'm sure many would recognise, came to mind.
John 8:32 – "You will know the truth and the truth shall set you free".
Now while I'm aware that the truth specifically being spoken about here is  the Gospel of Jesus Christ, you've got to admit, when a secret is out in the open, when the truth has been spoken or heard, regardless of the consequences, It's going to be a weight lifted off the shoulders of your conscience.
I am a Christian – That's no secret. Most people who know me would probably already know that. The reason for the random statement is that in general, the average person seems to have a perception that Christianity or righteousness (being in right standing with God), is something that is unattainable because of their lifestyles and often… because of their secrets.
Statements I've heard in the past include, "I'm not good enough to be a Christian", "I can't abide by all those religious rules", "I'm not that kind of person", and so on.
So here's a "dirty little secret" we all share: None of us are good enough! The bible tells us that there are in fact "none righteous, not even one" (Romans 3:10).

So where does that leave you? – It leaves you in total and complete dependence on Jesus.
He loves you the way we are, they way you were and the way you will be as life goes on. It's because of what He did that you can be righteous and acceptable to God the father.If you have ever considered the Christian faith and possibly accepting Jesus as Lord and Saviour, it's as simple as believing in your heart that Jesus died for you and receiving God's love and forgiveness. Honestly, the rest will pretty much take care of itself.
Come as you are, with all your secrets, your confessions, your faults, your talents, your unique personality, your background, your future ambitions, your passions, your dreams and your goals.
Let me say this again.Jesus Loves and accepts you as you are.
 "But God demonstrates his own love for us in this: While we were still sinners, Christ died for us." – Romans 5:8
So, what's my secret?  My secret is that once I was the world's biggest introvert, scared of everyone and everything around me. But since experiencing the love and acceptance of Jesus, I realised I didn't have to fear anything and my life has been nothing short of a roller coaster ride of adventure, excitement, dreams coming true and the most amazing, purpose-filled life experiences I could have ever asked for.
Are your secrets keeping you from a life that you have only dreamed of?
Do you have questions about Jesus or would like to know more? We would love to connect with you. Just click below to send us your questions!