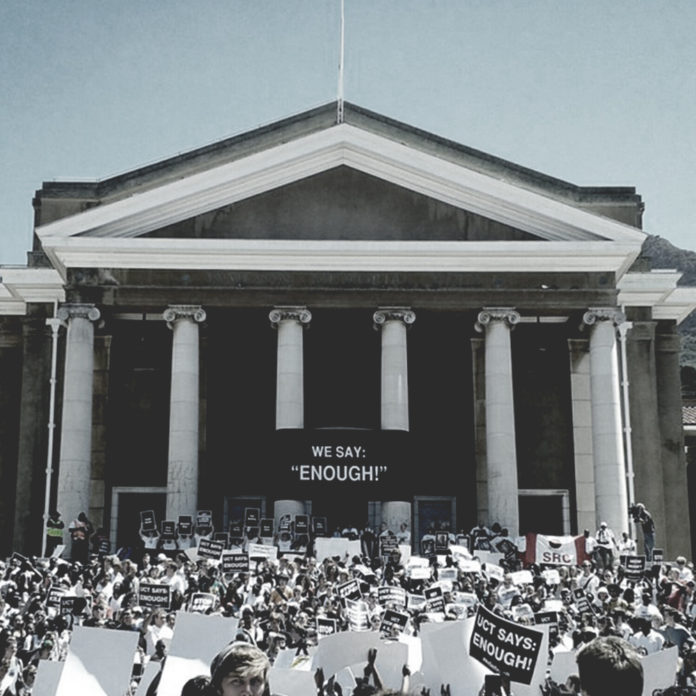 #FeesMustFall is a serious reality in South Africa.
With a national increase of just over 10% set to take place in 2016, students are in uproar as many are struggling to pay the current fees. When there are growing numbers of students being 'financially excluded', the nation needs to wake up and address this problem.
Education is the answer for Africa. Our greatest resource is our people. Investing into the younger generations is Africa's only sustainable path to a promising future.
As someone who is fresh out of university, I can understand why students have reverted to violence – even though I definitely do not condone it. I have a huge student load to hack away at. Things definitely need to change. The way the police reacted was outrageous.  Some students are under huge pressure, as they are writing final exams and have bursaries. The fact that the Vice Chancellors are all meeting with the President looks promising, but a constructive solution is still very elusive.
So how do I construct my response to this crisis? There are a few things that are important in dealing with it:
1. You need to know where you stand
This issue affects the next 10 years of our nation. It is not something we can ignore. It is our responsibility as citizens of a nation to know what to say if ever asked about this issue. I can guarantee that you know someone who is directly affected by what is happening right now. What you say may have an effect on their futures.
2.  Don't react
I have had many conversations where people have reacted without thinking about the greater picture. Some have reacted in frustration – saying that this kind of behaviour shouldn't warrant any change. Some have reacted by laughing it off. Some have reacted by being offended. All of these different reactions are not constructive to society.
3. Be informed
It is important that you educate yourself on the greater issues that are in play during this time. Not taking sides or getting emotionally involved before you understand the facts, not only know them. This can take some time and effort, but if you don't take your social response seriously you are undermining the part you play in building our nation.
4. Construct a response
This is when you need to choose what is important to you and to those around you. A response is calculated and just. When injustice, a lack of accountability, some opportunistic people and a whole lot of politics is involved, you need to make sure you are not fuelling any particular flame.
I am not going to tell you how you are meant to respond. I just ask that you make sure you are intentional about doing so. Crisis brings about change. And I am believing for a miraculous outcome.
Whether your crisis is personal, in your family, in your faith, in your education, finances or identity, I believe it is so important that we respond rather than react. This is a whole lot easier when you have a bigger perspective on life. God sees every element of your life. His view on what you are going through will change how you live – and will definitely change the outcome of your troubles. For more information, click the link below.
Do you have questions about Jesus or would like to know more? We would love to connect with you. Just click below to send us your questions!