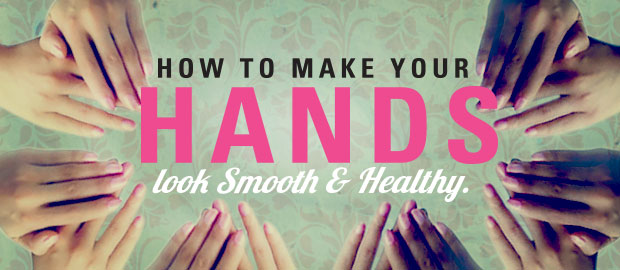 How to Make Your Hands Look Smooth and Healthy.
FACTS:
1. Apply nightly
"When you sleep, 80 percent of the skin's energy is devoted to repair. I recommend wearing a pair of skin softening gloves overnight. The gel lining inside of the gloves works to force feed cream and moisture into your skin that immediately softens hands, leaving them feeling smooth and hydrated, even on the coldest winter days."
2. Moisturize, moisturize, moisturize
During the winter months, it's easy to let hands take a backseat to taking care our faces and necks. All that running around in the cold can age your hands fast. Moisturize daily. Look for lotions that have ingredients that help aid to winter recovery. These include olive oil, grape-seed oil, Shea butter, and Vitamin E.

3. Less scrubbing, more covering
"Avoid over -washing your hands as water removes the skin's NMF (Natural Moisturising Factor), a naturally occurring bio-active barrier of fatty films that holds in hydration. When you're outside, your hands should be kept well covered with a good cream always available on hand'!"
4. Care for cuticles
Your hands aren't the only parts of you that can show age early on. Nails and cuticle beds can develop tiny, cracks that can really hurt. Treat yourself to a hand scrub that exfoliates as well as softens hands with consistent use.
5. Seriously dry hands? Consult a physician
Whether you have allergies, hands with cracks, or sensitive hands that continue to stay red, don't wait to take action. Talk to your doctor about getting a prescription to a specialty hand cream to suit you and the needs of your hands.
Not a fan of how your hands feel? You can get softer hands by just using a few household products. Here's how.

Wash your hands with warm water and moisturizing soap. After rinsing, fill a small bowl with warm water. Soak your hands in the warm water for about 5 minutes. Add a few drops olive oil into the water for added moisturization and pleasure.
Put about 2 tablespoons of sugar or salt and a few drops of warm water on your hands. For seriously dry hands, replace the water with olive oil.
Rub hands together, as you would when applying lotion. Do this for a few minutes.
Take a small soft washcloth and put some moisturizing soap on it. Rub each hand all over, starting with small circles on the front and back. Rinse well in the warm water.
Pat hands with a clean, dry towel. Leave hands a little damp.
Apply lotion to hands and then wrap a hot, damp washcloth around your creamed hands so that all the lotion can soak in. Look for brands with shea butter in them. This butter is readily absorbed by skin, and doesn't leave a greasy feel.
Take some rosewater (available in specialty body and bath stores) and massage this quickly into your hands. This softens and smooths skin tone, and gives your hands a beautiful scent.
video by http://www.birchbox.com/
Tell us: Do you have any tips or tricks you use to take care of your hands? Please share with us.
Do you have questions about Jesus or would like to know more? We would love to connect with you. Just click below to send us your questions!