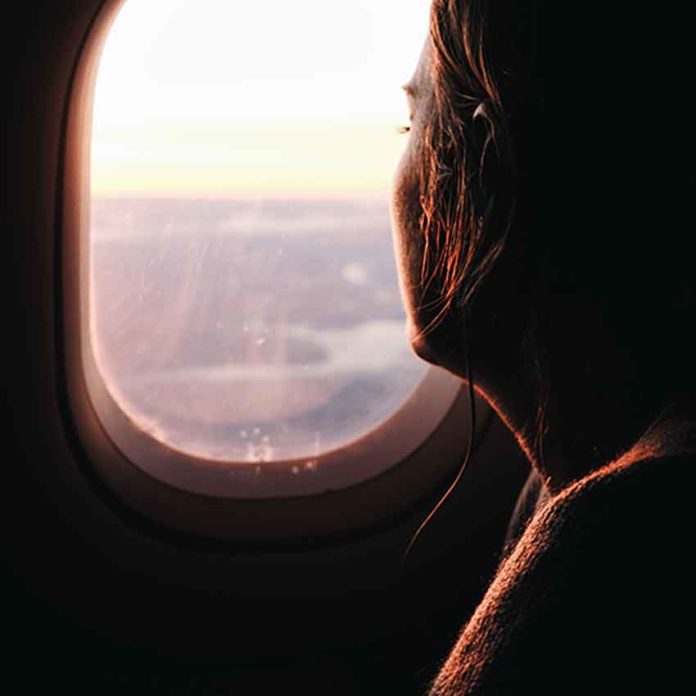 Growing up, a lot of my time was spent on aeroplanes. My extended family lived far away so we'd travel regularly to see them. Somewhere along the way, I went from a happy and carefree jet-setter to an overwhelmingly fear-struck prisoner! I began calling the aeroplane a 'metal tube of death' and had extreme anxiety take over my body and mind while we were flying. Regardless of how many times I had travelled before, I was now flooded with dread each time. I'd make ferocious eye contact with every flight attendant so I could study their every move and emotion. I would take out my Bible and read Psalm 91 over and over and OVER again as we flew.
"If you say, "The Lord is my refuge,"
and you make the Most High your dwelling,
10 no harm will overtake you,
no disaster will come near your tent.
11 For he will command his angels concerning you
to guard you in all your ways;
12 they will lift you up in their hands," – Psalm 91:9-12
More than a quick fix
In my fear-filled space, this passage of scripture wasn't a pleasant reflection from the heart of God. It became a desperate demand for God to bring angels to surround my plane and make it the most perfectly smooth, and trouble-free flight of my life.  Each time I landed safely, but once I was on the ground, I stopped trusting God's promises and lost the sense of being filled with His peace.
One day I had a realization that I could not continue like this.  I needed to travel regularly, but I was also in need of the words I was saying to become the truth in my heart. I was living in a constant state of worry and anxiety and that needed to change.
Years later, I can honestly say God has changed my heart and that I'm able to fly for hours while enjoying travelling. This came from realising that God was right there with me, in the midst of my fear.
One step at a time
It was a journey but here are some of the things I did to find peace:
I began reading God's word and making it a part of my heart, not just an occasional read. The Bible had to become more than words and something I really believed.  I started to memorize scriptures that spoke about peace and began to recite them again and again, outside of my being fearful.  They slowly became true to my heart.
I prayed for God to change my emotional state and for His peace to cover my fear. I began to truly believe that He could change the terror I felt. Praying for a change of heart then believing that God would do it, allowed this transition to occur.
I spoke about what God had done in my heart, again and again, knowing that my heart change would be made all the more real as I said it aloud. I began to speak positively about travelling and even would list all the things I loved about flying.  Slowly these words became heart truths.
Today I am a changed person on an aeroplane.  I look forward to travelling and relish in the 'metal tube of fun' as I now call it.  I thank God for changing my anxiety and allow me to find peace in the centre of the thing that scared me.
"Whoever dwells in the shelter of the Most High
will rest in the shadow of the Almighty." – Psalm 91:1
A helping hand
Is there something in your life that's causing you to worry? The Bible tells us that the only way to God is through His Son Jesus. When we understand that we are separated from God by the wrong things in our lives, we are able to enjoy the kind of relationship that He intended when He made us.
If you would like to learn more about this Jesus who can transform your fear into faith, please click on the link below and we would love to chat with you.
Do you have questions about Jesus or would like to know more? We would love to connect with you. Just click below to send us your questions!