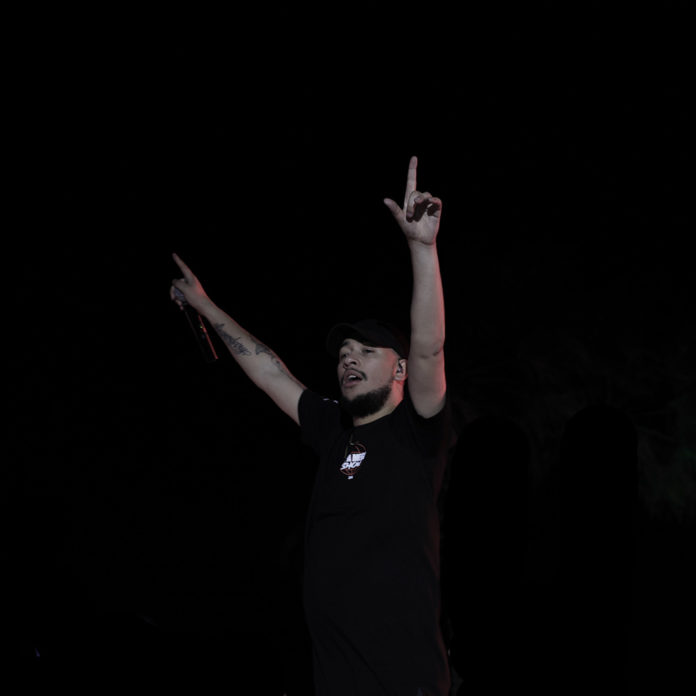 After visiting AKA's pop-up store last week, I was lucky enough to score a ticket to the show on Saturday. I must be honest, it's been a while since I've been to a hip-hop concert, let alone that of a South African artist, so I was immensely excited. I'm a huge fan of the local hip-hop industry of late and also of the man himself, AKA.
The venue, Shimmy Beach Club in the beautiful Cape Town harbour, overlooks the port entrance and makes for a stunning backdrop for a concert. The stage was something I've never seen before, with an outstretched ramp that extended over a pool! Apparently this was AKA's idea (nice one).
I arrived quite early and had the privilege of watching AKA sound check and I was very impressed. I met him briefly, but he looks like someone who really takes pride in his craft; he was meticulous in every area of the production.
The evening kicked off with someone who I think has the best voice in the industry – Kwesta! He had the crowd rocking to some of his hits and gave an extremely energetic performance. I actually sometimes found myself forgetting to take photos because I was bopping or busting a move.
After Kwesta, Kapital K (the host) came on and pumped up the crowd while a few DJs came on and cranked out throwbacks of note. From house to RnB and hip-hop featured as the MC and DJ built up to the main act. While this was going on I was snapping pics of partygoers from different angles (check out the photos below to see if you can spot yourself!).
AKA was scheduled to come on at 10pm, and who would have thought.. he was actually on time! My expectation of the show was really low because I honestly just thought it was going to be him and a backing track, but it was so much more. Each sound was specifically arranged for the show and some tracks sounded really cool – tailor-made for the live audience.
The sound itself was fantastic throughout the evening – not to mention the phenomenal band. AKA performed a number of his chart-topping tracks and even had Yanga, DA L.E.S and J.R. on hand to jump in on their features. A random fan popped on stage at some point – which was handled very well by DA L.E.S and AKA (hasn't gone well for AKA in the past). My favourite part of the show was AKA's performance of Congratulate where he acknowledged his parents (who were in the crowd) and his hometown of Mitchells Plain. There was so much authenticity about his performance – as if it was a real tribute to everyone in the venue that night. At one point he popped a bottle of champaign and poured it into people's cups – it was quite surreal.
All in all a great night! I went home smiling, with some great pictures and footage of the event! After this concert I can honestly say, AKA, you are the real Supa Mega!
Do you have questions about Jesus or would like to know more? We would love to connect with you. Just click below to send us your questions!