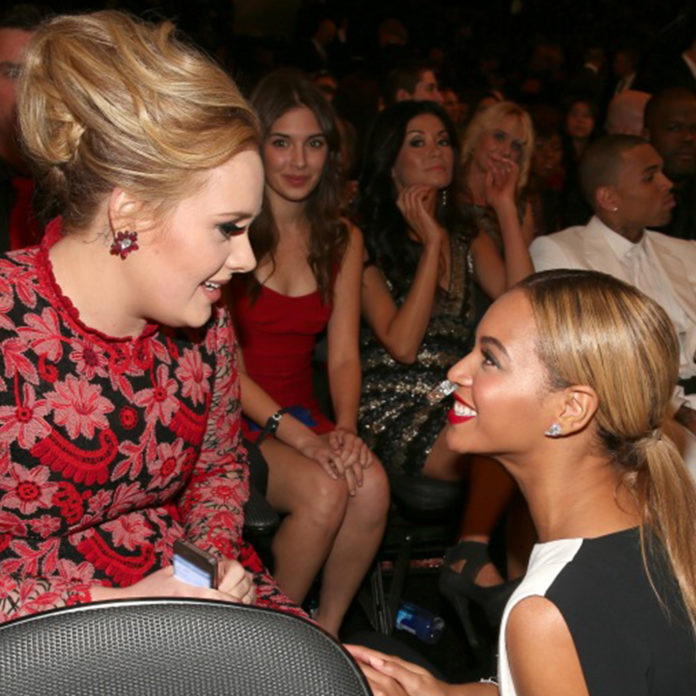 "I love you, I always have and I always will," these were Adele's words to Beyonce at the night of the Grammys as she ripped her award in two, giving the other half to the woman who is also known as the "Queen".
"I can't possibly accept this award," Adele said during her acceptance speech. "The Lemonade album was just so monumental, Beyoncé. It was so monumental and well thought-out and beautiful and soul-bearing… we appreciate that. All of us artists here adore you. You are our light."
From PR stand point it was probably one of the best moves to come out of the night. The vivid image of Adele in her olive-green dress, tearing the grammy award in half is plastered all over the internet. It makes her look good in ways that a teary overly dramatic acceptance speech can never touch. It moved the audience and it moved Beyoncé to tears. YouTube clips show the Queen gazing towards the stage, touched at Adele's kind words and admiration.
As much as publicity came from the moment, it didn't feel staged – Adele later at backstage admitted that she had loved Beyoncé and admired her from the moment she first heard Destiny's child singing "No, no, no."
The experience begs us all to ask: Is our world changing? For decades upon decades the gold drenched world of Hollywood has been founded on fame, competition and getting ahead.
It's all been about who was the best. Who was the king of pop? Who sold the most records, who topped the billboard for the longest and who created the most scandal. It was, and is, a money making, name dropping viper of a world which only those desperate with tenacity and drive seem to be able to find success.
But perhaps this world is waking up to the value of authenticity. Something new is in the air. With the invention of social media, influencers and the accessibility of the everyday person to fame and exposure a new era of celebrity is being born. A celebrity who endorses authenticity. Realness. Failure. Cellulite.
It's as if the new scandal is the dirty reality of how imperfect you really are instead of how perfect you are. It's going nuts. Tell us your stories, the world seems to be saying. Show us your imperfections, we want to know the REAL you. Beyonce's lemonade album which touched the life of Adele and many others is a perfect example of the trend.
Lemonade is: "a conceptual project based on every woman's journey of self-knowledge and healing". Lemonade comes with a one-hour film divided into 11 chapters named Intuition, Denial, Anger, Apathy, Emptiness, Accountability, Reformation, Forgiveness, Resurrection, Hope, and Redemption. The film uses poetry and prose written by an expatriate Somali poet Warsan Shir and connects cultures along with the all-too-common stories of hardships and resilience in black women worldwide. It's visual, it's riveting, it's creative but most of all it's authentic.
Along with the drive towards authenticity has come a new era of feminism and girl's empowerment. Examples, like Adele's are showing us that we don't need to compete with each other to remain on the top. We don't need to see each other as a stepping stone, but instead women can unite to make the world a better place. Artists are becoming more secure in themselves and being "you."
I guess it's best summed up in the following sentence: "find someone who looks at you the way Adele looks at Beyoncé." Don't be the person who is intimidated by others, embrace your own uniqueness and be authentic. Truly authentic.
Do you have questions about Jesus or would like to know more? We would love to connect with you. Just click below to send us your questions!