Upcycling.  Now there's another one of those catchphrases that our parents probably never used!  But it's 2014 and we are reminded time and again about how we are abusing our planet, about how much garbage we create yearly and how much of that can actually be re-used.  After you've eaten your baked beans, you can recycle the tin can and it can be back on the shelf as a new can in 2 months.  In the US alone, they use 100 million tin cans every single day and by recycle it, you can save 75% of the cost involved to make one from scratch.  I get that throwing stuff in the garbage damages the environment and we can agree that garbage strewn all over the place is unsightly, unsafe and unhygienic.  So in steps 'upcycling'.  Instead of contributing to the tons of garbage created each day, by throwing things away, and instead of spending money on new designer items, why not use your 'garbage' again as part of some DIY design and make something new!
This really appeals to me, but I must confess that I lack the creativity to do that.  Why not give the tin cans a good wash and upcycle them as planters for herbs, or decorate them with colour or smart labels and use it to store stationary or art supplies.  I've noticed that tyres are being used for various creative applications too and I've seen swings and see-saw being made out of the humble tyre, as well as using them for vegetables or flower planters and a tractor tyre being used as an entire mini vegetable garden!  220 Million car tyres are discard in the USA alone, every year, so I'd think every home should have something made out of an upcycled tyre!  To be brutally honest though, I'm not rocked by truck tyre herb gardens and tin can lamp shades, although you might be; but I am however, moved by the Boombottle!
The Boombottle is almost too simple for words.  Imagine a 5 liter plastic bottle,  fashioned into a glow-in-the-dark portable speaker, with some serious bass! It's as simple as it sounds, and after reading about it, I can't help but wonder why I didn't think of it!  Kevin Cheung from Hong Kong,  is the man behind the Boombottle.  It's a discarded vinegar bottle that has been fitted with a discarded car speaker and a few LED bulbs. It is airsealed and the screw-top lid has been re-fashioned to be the volume control!  I love it! It has a small pouch fitted on the side to hold your Smartphone or iPod, where you'd also find the on/off switch and the cable that plugs into your device's earphone jack. Powered by 4 small batteries that really only light up the LED bulbs, you've got a very energy efficient, portable boombox that is a great conversation starter and as 'green' as you're going to get when it comes to upcycling and just plain genius.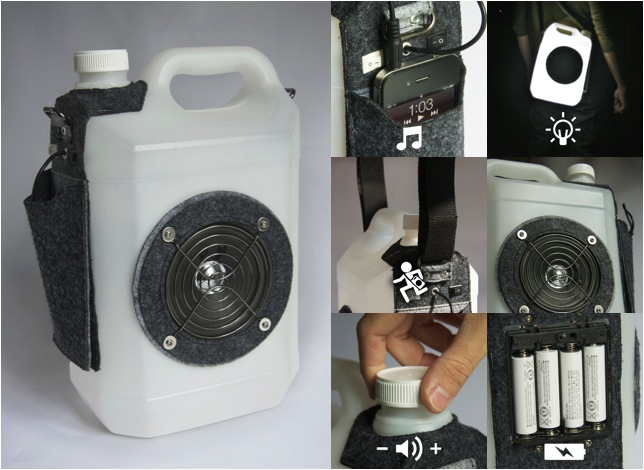 And it doesn't end there for Mr Cheung.  Kevin is producing these at a steady rate, and the Boombottles are being assembled by the St James Shelter workshop in Wan Chai, providing job opportunities for people with disabilities.   So it's benefiting the communities, shows great entrepreneurial spirit, helps the environment, and some how, among all that is to buy, having something upcycled, is even more desirable.  Such is the world we live in, that you can buy a Boombottle online for $112!  I kid you not!  Suddenly the tin can herb planter seems like such a good idea!
Have you ever upcycled anything?  What did you make?  Let us know in the comment section below.
Do you have questions about Jesus or would like to know more? We would love to connect with you. Just click below to send us your questions!