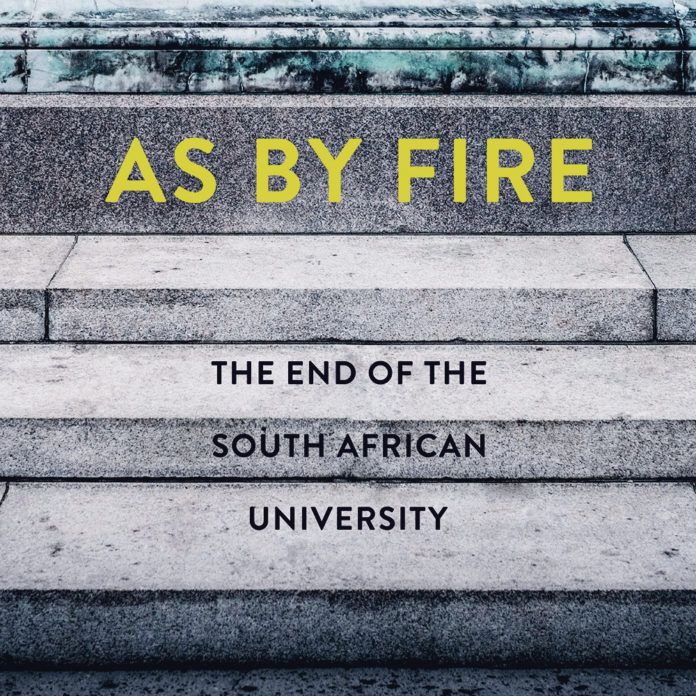 2015 was a very difficult year for South Africa.
It began with Rhodes "falling" at the University of Cape Town (UCT), sparking a nationwide movement with a single call – #FeesMustFall.
The next year and a half was very unstable – politically – as students across the country did everything in their power to gain the attention of University management and ultimately the highest office in the country – the President, as they marched on the Union Buildings.
During the course of these protests, the people who absorbed a lot of the pressure were the Vice-Chancellors.
In his latest book, As By Fire – The End of the South African University, former Vice-Chancellor of the University of Free State, and Education Expert, Prof. Jonathan Jansen tells the story of #FeesMustFall from an entirely different perspective.
He notes that while turmoil raged across university campuses, Vice-Chancellors were under immense pressure – at times working up to 18 hours a day, with virtually no money left in the coffers while young people were banging on their doors demanding free education – for all!
Jansen interviews the Vice-Chancellors from South Africa's 11 prominent public institutions who were most affected by the #FeesMustFall saga.
He tries to understand how the process unfolded from the perspective of the Vice-Chancellors – something that had not been done yet.
Jansen does well to write in simple, clear language.
He delves into the harsh reality of running an institution like his Alma Mater – the UFS – in a country like South Africa: more students entering universities meant that the government subsidy for higher education was shrinking in attempt to accommodate more people. This in turn meant universities needed to raise their fees from elsewhere – student fees and other donors. But these streams could only carry universities so far. Which begs the question: if Government and student fees are not enough to cover fees, where would the additional funding come from?
Jansen also explores the other factors that surrounded the protests. They weren't just about fees but other issues were at play – racial and cultural tensions fuelled the flames coupled with the fact that the #FeesMustFall movement was leaderless – it has a flat structure, making it difficult for university leadership to engage and reach an agreement with a single group. This also meant that agreements from the previous day could not be relied on.
This book is an incredible insight into the pressures faced by University management, who bore the brunt of much of the country's mismanagement at various levels.
It is worth a read for anyone looking to understand the current political climate across South Africa's University campuses.
Do you have questions about Jesus or would like to know more? We would love to connect with you. Just click below to send us your questions!