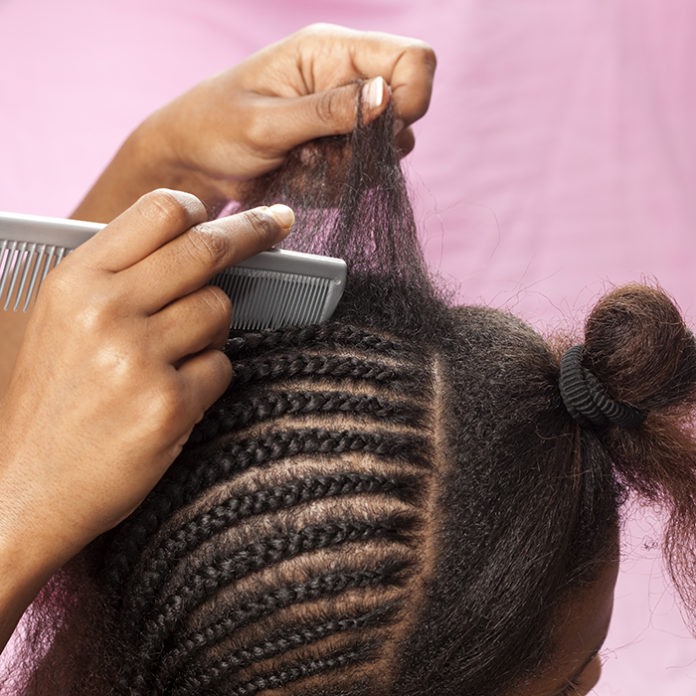 Though we generally refer to coarse and kinky hair as "African hair", truth is, black Africans have different types of hair.  And in order to have beautiful and healthy hair, it's vital to know your type of hair so that you may give it exactly what it needs. Knowing your hair type will provide you with a good starting point in caring for your hair , it will  enable you to choose more suitable products and will help provide you with guidance for how you should handle your hair.
In this very last edition of the About My African Hair series, we'll show you how to determine your hair type and what your specific hair requires most. There are two types of systems that are used to classify our hair. The one we're using here is the Andre Walker's hair typing system which is said to be easiest to follow and is the most visually descriptive system. The classification system ranges from straight hair types to curly hair types. African hair, which is naturally curly, will mostly fall under the following curly hair types:  3a, 3b, 3c, 4a, 4b, and 4c. The best way to see your true curl pattern is after you have washed your hair and your hair has air dried without products.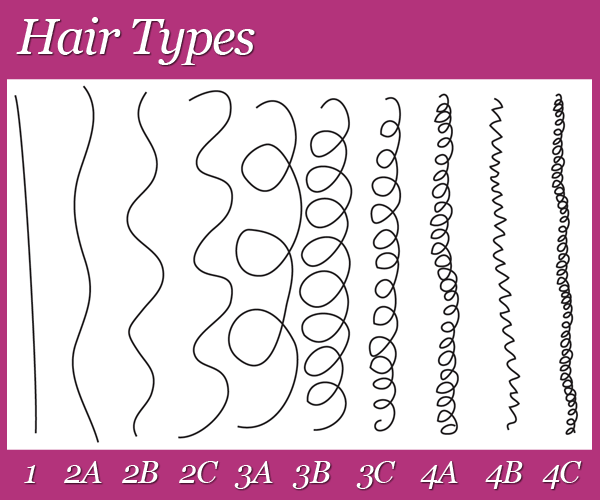 Type 4 – Kinky Hair
Type 4 is kinky, or very tightly curled, with a clearly visible curl pattern
The hair is very wiry, very tightly coiled and very, very fragile
Type 4 hair can range from fine/thin to wiry/coarse with lots and lots of strands densely packed together
Type 4 hair has fewer cuticle layers than any other hair type, which means that it has less natural protection from the damage you inflict by combing, brushing, curling, blow-drying and straightening it
Type 4 hair is known to shrink up to 75% of the actual hair length
Tips:
Use styling creams, butters and oils for type 4 hair
This hair type needs extra moisture and tender-loving care because it can be fragile
Detangle hair with a lot of conditioner in your hair and use a comb or detangling brush
Let hair air dry or use a hood dryer
Do not use a brush or comb on your dry curls
Reduce tangles by sleeping on a satin pillowcase or wrap hair in a satin cap
Type 3 – Curly Hair
There is a definite loopy "S" pattern
Curls are well-defined and springy
Type 3 hair has a lot of body; it is easily styled in its natural state or straightened with a blow-dryer
It isn't coarse, like many believe, but soft and very fine—there's just a lot of it
Combinations of Type 3a and 3b curls are common
Tips
3a's: Use gels and creams that offer light moisture and curl definition
3b's: Use gels and styling creams with extra moisture and serious frizz control
Use duckbill clips on the crown of your head to lift top curls
Let hair air dry or use a diffuser
Once your curls are dry, rub a little pomade into the palm of your hands and smooth over your hair gently
Do not use a brush or comb on your dry curls
Reduce tangles by sleeping on a satin pillowcase
Here is a video that explains hair types in more detail:
This brings our hair series to a beautiful end. I trust the information shared in these articles has been useful to you and that, from now on, you will maintain beautiful hair. With proper care, natural hair can be lustrous. Now that you have all this knowledge , start working on your own hair. For more info on hair types and how to determine yours, please click here.
Credit for portions of this post to:
http://blackgirllonghair.com/2012/03/natural-hair-type-guide-which-type-are-you/
http://blacknaps.org/know-your-hair-type/
Do you have questions about Jesus or would like to know more? We would love to connect with you. Just click below to send us your questions!