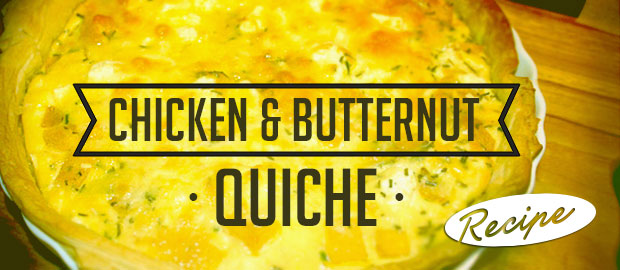 Chicken and Butternut Quiche
Featured Cook: Cassidy from South Africa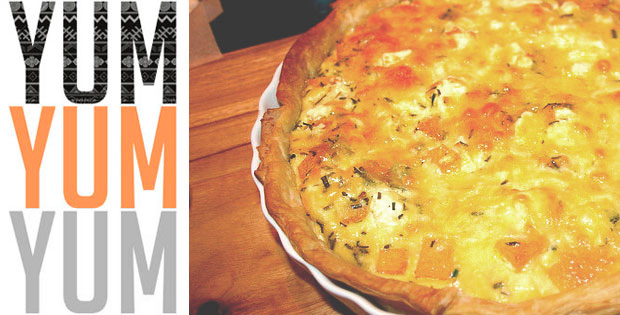 Ingredients for crust:
1 cup cake flour
110g butter or margarine
50g grated cheddar cheese
Ingredients for filling:
300-400g chicken breasts
1 medium butternut
1-2 rounds feta  cheese cut into cubes
200g grated cheddar cheese
200ml milk
3 large eggs
Seasoning
A dash of olive oil
Method:
Cut the butternut into cubes and roast on an oven tray with a little salt and olive oil at 180°C until cooked through – usually 30-40min – so do this first!
Place all the ingredients for the crust into the bowl and knead together using your hands until a soft dough is formed.
Press the mixture into a 32cm quiche dish making sure to press the mixture up the sides of the dish. The mixture should be very thin once spread over the bottom and up the sides of the dish.
Cut the chicken into cubes and season. On very high heat, brown the chicken in a frying pan. Take care not to overcook the chicken – it does not need to be cooked thoroughly all the way through at this point!
Mix the eggs and milk in a bowl until thoroughly combined. Season the mixture to taste (I use rosemary and olive seasoning with some salt and pepper, but you can use whatever you like!).
Place the chicken, butternut and feta into the prepared crust, distributing the ingredients evenly.
Pour the milk and egg mixture into the crust over the other filling ingredients.
Sprinkle the grated cheese over the top. Add more or less cheese according to taste. I also add some mixed herbs into the cheese for some extra flavour.
Bake the quiche in the oven at 180°C for 35-45min or until the cheese topping is golden brown and the egg mixture has completely set.
Enjoy!

Do you have questions about Jesus or would like to know more? We would love to connect with you. Just click below to send us your questions!