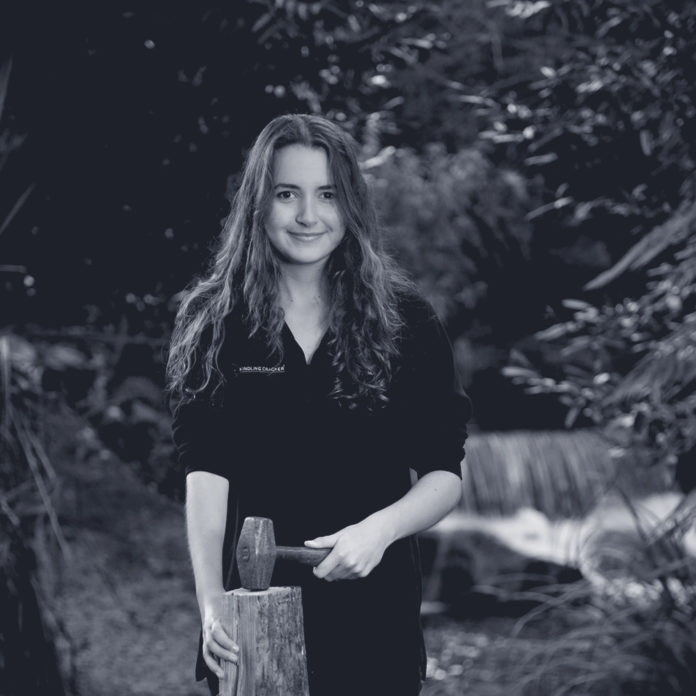 When Ayla Hutchinson was 13 years old, she saw her mother cut her finger with a hatchet while splitting kindling and became determined to find a safer way to cut firewood. This Mighty Girl from Taranaki, New Zealand took on that challenge as a science fair project — the result was the Kindling Cracker, a cast iron tool that allows people to split kindling quickly and safely. Now, the 15-year-old entrepreneur is not only doing brisk business in her home country, she's bringing her invention to a major new market after she recently signed a distribution deal with a leading American tool company, Northern Tools and Equipment!
After Ayla came up with the initial design of the Kindling Cracker for her 8th grade science fair project, her father, Vaughn Hutchinson, helped her build the original prototype. She had such a positive response to her school project that she decided to develop the idea further, stating that "it took a few months or so to get it to the final product." The cast-iron tool uses a built-in axe blade and a safety cage to prevent injuries; just put the wood into the cage and hit it with a hammer to split perfect kindling. Two years later, Ayla estimates that there are tens of thousands of Kindling Crackers in use across New Zealand.
The Kindling Cracker started winning awards, including earning Ayla the Regional Finalist Award at last year's International Google Science Fair. Then, she heard from Ryan Kotula, the owner of Northern Tool, who was intrigued by the simplicity of Ayla's design and wanted rights to distribute it in the United States. The first shipment of 22 tons of Kindling Crackers was shipped out this summer. This month, Ayla and her family also made a trip to Minnesota, where Northern Tools and Equipment is headquartered, to demonstrate the cracker at the State Fair.
While her company's growth is exciting, Ayla says that one of her favorite parts of her invention's success is that it's "making a really positive impact in many people's lives… It makes it easier and safer for everyone to cut kindling which is great to have when you fire up a wood fire, pizza oven, brazier etc. It also gives people with disabilities or physical impairments the freedom to cut their own kindling again." Earlier this year, she and her father drove five hours to deliver a Kindling Cracker to an elderly widow who uses wood to heat her home. "I had heard she needed one,'' said Ayla. "We sorted out a place for it to sit. She served tea and cookies. And now she doesn't have to beg the neighbors to cut kindling. It was fun. "
For more info about this extraordinary invention and inventor, check out:  http://www.kindlingcracker.com
Do you have questions about Jesus or would like to know more? We would love to connect with you. Just click below to send us your questions!